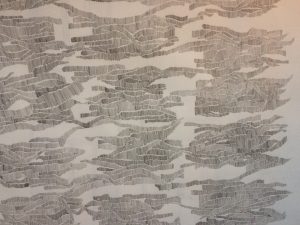 Slipp kunsten fri det er vår!
RadiOrakel har den glede og ære av å få presentere to lydprosjekter produsert av studenter ved Kunsthøgskolen i Oslo. Tune in mandag 11. mai klokken 16 og onsdag 13. mai klokken 12 for å få feit og smart radiokunst direktesendt fra studio og rett i øra!
Driftalong!
Først ute er Ingri Enger Damon og Natali Abrahamsen Garner, fra masterprogrammet ved Teaterhøgskolen, som gjester radioen og tar over programmet Rilleslange mandag 11. mai klokken 16. Med seg som tekniker har de radioens superstar Line Bliksås. Damon og Garner skriver i sin presentasjon:
Velkommen til Driftalong!
Vi, drivere av og i dette prosjektet, presenterer her et forsøk på;
å stå
å gå
å være
å drive
i alt vi mennesker er, har vært og fortsatt kommer til å være – vi ønsker å bli bedre på å bare være – ikke planlegge, ikke forvente, men heller lytte til seg selv. Å være med hele sitt jeg og gjerne sammen.
Vi vil invitere til dette sakte flytende nærværende. Å møte det, selv om det også er seigt eller tungt. Men forsøke å se på det som noe godt som kan brukes om igjen – en form for personlig beredskap man alltid bærer med seg – ikke som en bør, men som en pandoras gave.
Vi inviterer til å driftalong her – og håper du vil være med både her og der!
Kanskje vil noen av våre erfaringer få det til å klø i fingrene etter å gjøre det samme som oss? Eller kanskje man finner på noe helt annet i Driftalongens ånd?
LISTEN_IN
Onsdag 13. mai er det radiOrakels fantastiske Karina Sletten som tar over radioen fra 12-13 med en sending om Pauline Oliveros, elektronisk musikk og feminisme i praksis! Sletten er masterstudent ved linja for kunst og offentlige rom. Med seg som tekniker har hun radiorakels fabelaktige Dåra Dårk. Sletten sin sending er en del av Listen In som er et årlig arrangement for linjen på KhiO:
LISTEN IN
To mark the ending of my first year at the MFA program Art and Public Space at the Oslo National Academy of the Arts, I have decided to showcase a live radio-broadcast. In collaboration with radiOrakel and Dåra Dork, it is part of a radio-series named Concrète Void, a show concerning electronic music, tools and processes of creating sound.
My participation for the study-program's interactive exhibition LISTEN IN will be rooted in the sonic meditations made by Pauline Oliveros. I have taken special interest in the way she formulates listening as activism. Due to this interest I will draw a line to Audre Lorde who also believed listening was activism; as a fundamental step to liberation.
During one hour on air I will perform one of Pauline Oliveros sonic meditations from 30th of november 1971 – though it typically is held in groups, I want to make the listeners aware of the ways in which Oliveros believed sound was a byproduct of our very bodies – and note that it is possible to do on one's own.
My aim is to perceive her political interest during the years the sonic meditations happened, and thus what kind of activism she seeked. I will also add some relevant history about Audre Lorde's authorship since they both were active during the years I'm particularly interested in, 1967-1980, and notice the differences to how they perceived listening as activism. Seeing as they had commonalities identifying as feminists, lesbians and activists .
I will also play selected music that Oliveros created to give the listeners the sonic experience and the so-called byproducts of the sonic meditations.
Be there or be square! Love your radio! Love art!