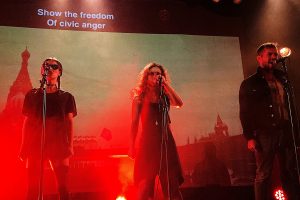 At the press conference on the Sunday before the Pussy Riot performance in Oslo, we saw Masha Alyokhina and producer Alexander Cheparukhin being interviewed by Nazneen Khan-Østrem. Topics of discussion were the situation of women in Russia, the LGBTQ + community and people protesting the Putin regime.
The conversation was painfully lacking rays of hope: Alyokhina talked about how 2 years ago domestic violence happening at home was decriminalised by the government. Beating your wife up on the street will cost you a fine (roughly 60/70€), while joining a peaceful protest might lead to you being put into jail for up to 5 years, she stated. Claiming that inmates are being tortured physically, she mentioned the usage of electro shockers several times.
Masha was part of the original set up of Pussy Riot, whose members were imprisoned after disrupting a service in Moscow's Cathedral of Christ the Saviour in 2012. Their faces covered in pink balaclavas, they performed a piece called "Virgin Mary, Mother of God, Drive Putin Away".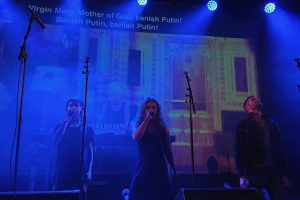 Even when the press and human rights were already extremely restricted, the freedom of speech in art was still very liberal, in Cheparukhin's opinion. That was before Pussy Riot though. For him, the prosecution of the group marked a drastic change.
Cheparukhin mentions how impressed he was of her theatrical talent when he first saw Alyokhina performing in a theater play. And it is true. You might think that a "Punk theater" doesn't necessarily require a lot of skills in order to fulfill its purpose, but the show on the 15th of November at Parkteatret is impressive.
The play is based on the book "Riot Days" which is describing the time from her incarceration until now. It is poetic, musical and performed incredibly thought through.
And this is not just a show. The story is real, and as soon as the performers are getting off their 3 hour flight from Oslo to Moscow they are back in the environment and situation it is based on.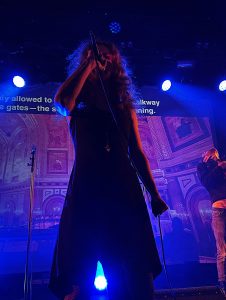 "Which effect did the Me Too movement have on Russia?", we ask Masha after the press conference. We are sitting at a table in an Indian restaurant in Oslo's centrum. "Not a big one", she answers. Russia's government is very interested in installing strong conservative gender roles in the country and its population. Women as mothers and housewives. 
"What is your advice for young girls?", we ask. She doesn't hesitate: "The change will not happen without you. There will be no leader or saviour who will come and just solve all your problems. It's you or nobody. And if u see there's something wrong happening nearby, don't stay silent. Do something." 
Only two days after our interview we receive an email: Masha and three other people, including her boyfriend, held a protest, standing on a bridge and holding a banner with the lettering "STOP GULAG" as well as pictures of political prisoners. The email reads that one protestor was already arrested, while another one was hiding inside their flat. The police that was waiting outside the door had already switched off the lights and threatened to break the door.
Listen to our interview with Masha below: