In this episode of "Kroppen og ordet" Nayla Naoufal and Ellen Jerstad discuss and review Florentina Holzinger show "Apollon", performed in Black Box theatre, Oslo on the 24th of January.
About this performance De Morgen wrote "Pussy Riot meets the Power Rangers", and "Apollon Musagète is a wild clash between ballet and feminism". We talk about how Holzinger works, and about our experience with this peice of dance.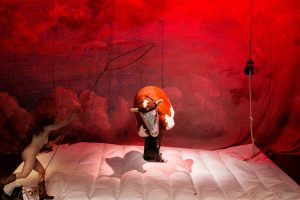 Foto from the performance, by Radovan Dranga
"Kroppen og ordet" er en serie om dans. Vi prøver å sette ord på, og dekonstruere, kropper i bevegelse. Hvordan kan dans røre og berøre? Vi vil belyse utfordringer som blir tatt opp i dansen. I tillegg inviterer vi inn spennende folk som kan kaste nytt lys over gamle idéer, og gi oss nye perspektiver. "Kroppen og ordet" er en blanding av anmeldelser, intervjuer, og assosiasjoner som flyter ut i samtaler mellom mennesker. Serien drives av Sarah Louise Luckow som er danser under utdanning ved KhiO, og Ellen Jerstad som er teaterregissør, utdannet ved Skolen for Samtidsdans og Teaterhøgskolene i Tsjekkia og Skottland. I tillegg har de med seg Nayla Naoufal som dansekritiker og forsker.​ Jingles komposijon:​ ​Jawad Nawfal​.​​
Podcast: Play in new window | Download (Duration: 13:05 — 13.0MB) | Embed